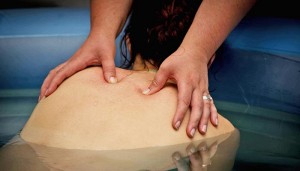 What is a doula?

A doula, or birth attendant, is a professional who is trained to provide emotional, informational and physical support to women and their partners before, during and after the birth of their baby. A major part of my role is to nurture your self-confidence and help you access your inner wisdom surrounding birth and parenting. "Doula" comes from a Greek word meaning "woman's servant". Although some may think doulas provide a new service, this is not so. Throughout history and across cultures, women have been attended and supported by other women during labour.

Why would I want to hire a doula? What are the benefits?

Working with a doula helps to ensure a more positive birth experience, better physical and emotional outcomes for mother and baby and a more relaxed and prepared beginning to parenthood.

A doula helps you navigate the maternity care system, providing the most current, evidence based information and helping you understand your rights so you can make the choices that are right for you and your family.
In today's increasingly fragmented maternity care system, you may see a different midwife or obstetrician for each antenatal visit and at your baby's birth. A doula provides personalised, continuity of care – she is a familiar presence who knows your hopes and preferences.
Numerous research studies have highlighted that the use of a doula has clinically meaningful benefits, with no known risks. Compared with women who have no support in labour, women who have support from a companion who is neither a member of the hospital staff nor a friend or family member are:

28% less likely to have a cesarean section
31% less likely to use synthetic oxytocin (syntocinon) to speed labor
9% less likely to use any pain medication
34% less likely to rate their childbirth experience negatively.

Does a doula replace my partner or other support person?

No, a doula is supportive to both the mother and her partner, and plays a crucial role in helping a partner become involved in the birth to the extent he/she feels comfortable. Partners are having their own experience at birth and it's not fair to expect them to know how to meet all a birthing woman's needs. Partners usually love having a doula to back them up, to provide explanations and suggestions and allow them to take a break when needed.

What does my doula do when I'm in labour?

In antenatal visits, we determine what role and what comfort measures you would like me to provide, such as acupressure, aromatherapy, breathing and relaxation techniques, heat packs, homeopathic remedies, massage, rebozo work, Spinning Babies® techniques and positioning and more. When labour becomes established, I'll usually meet you at your home to help you labour confidently before going into hospital. For homebirths, I help set up the birth space and pool in addition to supporting your labour. I help to protect your privacy and to create an intimate atmosphere that will allow you to feel safe and focused. I try to ensure that you and your partner are staying rested, hydrated and nourished so you can labour efficiently and effectively. To help you achieve your birth preferences, I facilitate collaborative communication with medical caregivers and provide you with evidence-based information to underpin your decisions. Most of all, I hold the space for you and stay by your side until your baby is born and you and your partner are ready for some quiet family time.

How do hospitals and medical caregivers feel about doulas?

Hospitals and medical caregivers are generally welcoming of doulas.   They find it easier to work with women who have their own informational and emotional support. Several midwives have told me they wished they had time to do what doulas do – giving massage, providing constant support, talking women through each contraction, etc. - but their clinical duties and charting responsibilities do not permit them to do so. I do my best to create a warm, professional relationship with your caregivers.  I always encourage collaboration and respectful discussion, making sure that you - the most important person in the room - feel heard, understood and respected.

Do doulas only work with women wanting natural childbirth? Would I benefit from a doula even if I'm having a scheduled Caesarean birth?

I strongly believe that all women, regardless of their preferred mode of birth, are deserving of support and respect for their choices. I provide unbiased information to help you identify what a positive birth looks like for you. My responsibility is also to listen and to ensure that your choices are made from a place of knowledge and self-awareness. While I am passionate about natural birth because of the long-term physical and psychological benefits for mother and baby, I am also aware that every woman has different needs and values. A doula's role is not to judge, but to nurture and accompany women on their personal path to motherhood.

Does a doula perform medical tasks?

A doula specialises in non-medical skills and does not perform clinical tasks, such as vaginal exams or fetal heart rate monitoring. A doula does not diagnose medical conditions, offer second opinions, or give medical advice. I am there to comfort and support you and to enhance communication between you and your medical caregivers.

Does a doula make decisions for me?

My role is not to speak for you but rather to help you find and nurture your own voice. A doula does not make decisions for clients or intervene in their clinical care. I provide informational and emotional support, while respecting your decisions.
Sister Support Doula FAQ
What doula services does Sister Support offer?

I offer the following options for Doula Support:

What other services does Sister Support offer?

In addition to Birth and Postnatal Doula Support, I also offer the following, either on a stand-alone basis or in a bespoke package with Doula Support:

Pregnancy and Postnatal Mobile Massage

How can I get more information about Sister Support? How can I hire you?

Please contact me for further information and to arrange a free, no-obligation interview. The interview allows us to discuss your expectations of your doula and to ensure that we are a good match. Once you've decided to hire me, I will send you a Doula Support Agreement for your review and signature. In general, a 50% deposit is payable upon signing the Agreement and the remaining 50% is payable three weeks before your estimated due date. As I believe strongly that every woman deserves the support of a doula, I also offer payment plans as needed.

What is the cost of Sister Support services?

I offer a variety of services and packages that can be tailored to your needs. Please contact me to discuss your needs and preferences and for the latest pricing information.