Spinning Babies® Parent Class – 3 hours – NEW! 
Spinning Babies®  provides an approach for comfort and ease in pregnancy and childbirth, highlighting your baby's active role.  We believe that a baby's position isn't random – a baby will get into the space available – and a baby's position can significantly impact when labour begins and how it progresses. Yet, thinking only of the size of the baby or the pelvis isn't enough.  Birth anatomy can be flexible.  Both the uterus and the pelvis have more available room when the muscles and other soft tissues (ligaments and fascia) are balanced. 
Learn techniques to balance the muscles and other soft tissues that support or restrict your pelvis and create more space for baby to rotate and move through. Together, you and your birth partner can use these techniques before and during labour.  Spinning Babies reveals how the baby can find optimal positions and make birth less painful, and even pleasurable!  Baby's job in labour is to rotate, the birthing person's job is to dilate!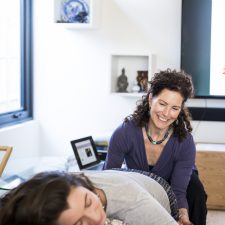 The three-hour Parent Class consists of a slide show presentation, discussion and lots of guided movement activities, including:
Daily Essential Activities and Rest Smart Positions 

The

 Three Sisters of Balance to create balance in the soft tissues of the pelvis (muscles, ligaments and fascia) to increase comfort in pregnancy and to add ease in birth
Birth positions and techniques to open the three levels of the pelvis to let the 

baby

 come through more easily, at each stage of labour
How your birth partner can help you in pregnancy and birth using 

Spinning

 

Babies

 techniques
Connecting with your baby and understanding their position with Belly Mapping
Includes:
Class handouts and Belly Mapping worksheets
Online access to the 

Spinning

 

Babies

 

Parent

 Class Companion eBook

Availability by phone, text or email for follow-up support
Further details:
Investment – $275 per couple/birth team
Held in the comfort of your home* or at my home in Prahran
*If your home is more than a 30-minute drive from Prahran, a nominal travel fee applies.  Also, I use a heavy massage table in this class thus parking must be available near your front door and there must not be many stairs to the room where the class will take place (unless you have a strong partner or friend who's willing to carry the table for me).
Some feedback from recent class participants… Laura Lee was a wonderful teacher, really informative and clear. She guided me and my sister through the practices and had heaps of tips and information. We really enjoyed the class and felt it was SO useful! We both felt we were being armed with techniques that could be really beneficial during labour and even pre-labour. (Tammy) 
Absolutely loved Laura Lee's class, she is so knowledgeable – I came away with so much useful information and great techniques to practice and use during labour. I feel so much more equipped to hopefully have a much less medicalised 3rd birth.   (Melissa)  
Thoroughly enjoyed the class and so informative. It gives me more confidence knowing I can be proactive during birth and have strategies to deal with challenges that arise during labour. (Julie)
Laura Lee is a fantastic teacher and birth support person. She made it so easy to understand how, why and what to do. Highly recommend her and this class. (Emmal)