"By encouraging a woman to dance during birth, we empower her to actively participate and rejoice in her labor, to embrace its unique rhythm and unfolding, to love her pregnant body, and to trust in her baby's and her own inner-knowledge of how to birth."
~Stephanie Larson, Founder,
About Dancing For Birth™ Classes
Activate your instincts -you are primal, powerful and wise!  Discover the keys to activating your birth and mothering instincts for your wondrous transformational journey through Dancing For Birth™ classes.   More than just antenatal/postnatal fitness, Dancing for Birth™ classes provide birth readiness and teach a "language of movement" especially designed for pregnant women and new mums wearing their babies in soft slings or carriers.
The 90-minute classes offer a combination of the following:
Dance fitness and fun inspired by traditional women's dance forms, such as belly dance, African dance, Latin dance and Caribbean dance
Childbirth wisdom, such as active birth movements, natural comfort measures and optimal foetal positioning
Breathing techniques and guided relaxation to help you feel calm and to connect with your baby

A supportive women's circle to share your experiences of pregnancy and birth and to create inspiration and affirmations
Classes are available on an individual or group basis, in your home or mine.  For more info and bookings, please get in touch via my Contact page.  Individual classes can be incorporated into a customised Doula Services package at a special rate. No dance experience necessary!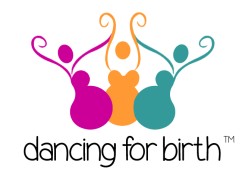 More About Dancing For Birth™ Classes
Dancing For Birth™ antenatal/postnatal dance classes incorporate dance moves from around the world along with childbirth education to prepare you, body and mind, for birth. You'll become stronger, more agile, more at ease with your body and both mentally and physically ready to embrace your unique birth experience.
You'll learn birth dancing moves inspired by belly dance, African dance, Latin dance and Caribbean dance. It's a feel-good workout that challenges yet relaxes and uplifts you. And, just like motherhood, there's no prior experience required!
At the same time, you'll be learning valuable childbirth preparation skills and natural pain coping techniques that will build your confidence in your own birthing ability and wisdom. You'll gain knowledge to help you have the birth that you envision for your baby.
Regular classes are available to keep you dancing through pregnancy and after birth with your baby. Babies whose moms take Dancing for Birth™ antenatal/postnatal dance classes love the motion of dancing and are easily soothed after birth by being held while you dance. You'll regain your pre-pregnancy shape and tone more quickly when you continue Dancing for Birth™ classes with your baby after he or she is born.  The connections you make with other women in class can help you feel supported and nurtured, both before and after the arrival of your baby.
Dancing For Birth™ originated in the USA by founder, Stephanie Larson – a birth doula, childbirth educator, dancer, perinatal fitness expert and mother of four.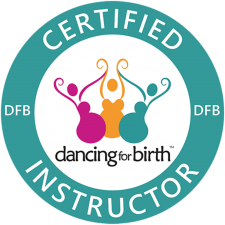 Visit www.DancingForBirth.com for more information.