Life with a new baby can be wonderful and extremely challenging, all at the same time!  In days past, new mothers were supported by their family and community as they recovered from pregnancy and birth and learned to feed and connect with their new baby.  Unfortunately, in modern times, most women lack this intensive knowledgeable and gentle support from their inner circle.  Enter the Postnatal Doula!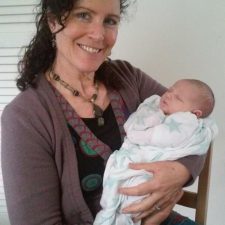 Prior to your baby's birth, we'll talk about your vision for the first 6 to 12 postnatal weeks and the ways in which you'd like my support.  To help you prepare for the postnatal period, I provide a Postnatal Plan template for you to discuss and complete in the final weeks of pregnancy.  I also provide suggestions on products and services you may like to purchase or arrange in advance of birth.
Once your baby is born, I provide support in your home and assistance with:
Bonding and attachment
Breastfeeding/Bottle feeding
Understanding newborn development  & communication
Settling and sleeping
Babywearing
Belly binding (for mum)
Baby massage
Postnatal nutrition, including shopping for and preparing nutritious meals (Ayurvedic, Chinese, or Western), if desired (

service

 does not include cost of groceries)
Birth debriefing
Light cleaning and laundry
Looking after baby while mum rests
Referrals to other professionals if needed
Postnatal massage in your home at a reduced hourly rate
I provide Postnatal Doula Support on either a casual or pre-booked package basis.  All Postnatal Doula visits are provided in minimum 3-hour blocks. Booking a postnatal package with multiple visits of 3-hour blocks is more cost-effective than casual bookings.  For casual bookings, your investment is $195  for a 3-hour visit.  For a package of 4 visits of 3 hours each (a total of 12 hours), your investment is $660.  Packages are valid for 12 weeks after birth and visits can be scheduled ahead of time or as needed.